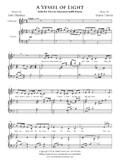 A Vessel of Light (Mezzo Solo)
Difficulty Level: Medium
RIGHT-CLICK FOR AUDIO FILE
"A Vessel of Light" bids us keep our lamps full as the five wise virgins did in Jesus' parable of the Ten Virgins.
CLICK HERE for blog entry.
Verse 1
When my lamp burns low;
And faith is dim;
When the once steady glow
Is uncertain;
I know I must attend
My failing store;
To trim my lamp and fill its lack
I come before the Lord.
Chorus
Fill my lamp I pray with thy precious oil;
hen shadows dismay, Lord, light up my soul;
Through the night may I abide
A vessel of thy light.
Fill my lamp each day, and with delight
I will walk in Thy path with Thy perfect light.
Oh Lord, fill my lamp today. I pray.
Verse 2
Now my lamp is full;
Its flame is pure;
Not a flicker of doubt can endure.
Yet as I hurry through this dark'ning world,
How quickly burns my reservoir!
And I return to the Lord.
Repeat Chorus
Bridge
In Gethsemane
Where the olives grow,
With the weight of our sins
A heavy stone,
Crushed and broken, Jesus tread
That awful press alone,
That my vessel might be full and whole,
Ever brimming with oil.
Repeat Chorus